Enid Blyton plaque unveiled in Beaconsfield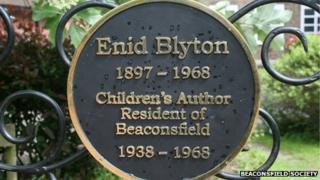 A "long overdue" memorial to children's author Enid Blyton has been unveiled in the town where she lived.
The author lived in Beaconsfield for 30 years but there had been little to mark it, prompting calls for recognition of her local connection.
The town council commissioned a £300 plaque which was unveiled on Wednesday opposite the town hall.
A Beaconsfield Society spokeswoman said Blyton had at "last been properly acknowledged".
Kari Dorme said: "This plaque is long overdue in honouring our world famous children's author.
"Enid Blyton is, at last, properly acknowledged by, and seen to be belonging to, Beaconsfield.
"She was a great children's writer and has encouraged many thousands of children to read."
The society led the campaign for a commemorative plaque over a year ago, while organising events to mark the 75th anniversary of her arrival in the town.
It felt that while she lived in Beaconsfield from 1938 until her death in 1968, it was "pretty dire the town had nothing to honour her".
The plaque, which was unveiled by town Mayor Sandy Saunders, hangs next to the small iron figures of the Noddy and Big Ears characters in the town hall gardens.