'Heavy hoarding' St Albans house fire takes 11 hours to tackle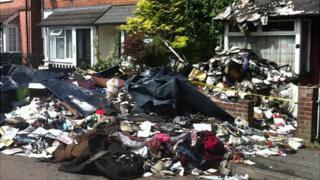 Firefighters spent 11 hours fighting a house blaze after struggling to gain access due to "heavy hoarding".
Crews started tackling the fire, in Upper Culver Road, St Albans, just before midnight on Tuesday and left at 11:00 BST after damping down.
They reported difficulties gaining access due to the amount of "stored materials".
A woman was taken to hospital in Watford suffering from minor burns and the effects of breathing in smoke.
Hertfordshire Fire and Rescue Service said it took about an hour and 30 minutes to get into the property due to "stored materials and missing floorboards".
"They made slow progress damping down due to heavy hoarding," a spokesman said.
'Difficulty letting go'
The cause is not yet known but is not believed to be suspicious, he added.
Sam Ledger, from the relief crew at the scene, said firefighters had to remove the door to get in and could not get up the stairs because it was full of paper and books.
"All the rubbish here [outside] is just from the one room upstairs," he said.
"It's more common than you think, I have been to three or four instances of something very similar.
"Some people have difficulty letting go of some of their property."
Neighbour Peter Butcher said the woman who lived at the house "couldn't get in the front door properly" and "always squeezed herself through".
St Albans Council's environmental health department said its primary concern was to clear the rubbish away and make sure the house was secure.