Bedford artist Iain Carstairs unveils fresco on his house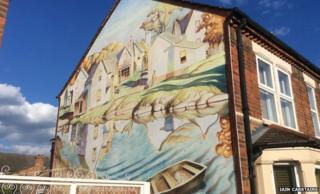 An artist has revealed a giant fresco on the side of his house after eight months of work.
Iain Carstairs has put an "interpretation" of Canadian artist AJ Casson's The White Village on his Gladstone Street home in Bedford.
The 35.5 sq m (382 sq ft) piece was created using pigment paint on lime plaster, a technique dating back to about 1500BC.
"Man has always decorated his dwelling places," he said.
The artist said he created the piece after the success of a painting he recreated on a Mill Street coffee shop last year.
Scaffolding was erected in September but high winds over the winter held the project up.
The piece is made up of 56 sections, each of which took about two days to complete.
"As the plaster carbonates, the pigment is pulled into the surface of the plaster so it actually becomes part of the stone," said Mr Carstairs.
"You have about eight hours to put the pigments on before the plaster becomes too hard to accept any more colours."
The original painting shows a village reflected in a river, with a boat moored in the foreground.
Mr Carstairs added a painter's palette and a copy of the picture inside the boat.
Having worked from a "very cramped" scaffolding tower where he could not be more than 18 inches (46cm) away from the wall, Thursday's unveiling was the first time he had seen the piece in its entirety.
"It's like doing a jigsaw when you suddenly stand back and see all the parts.... the colours really stand out," he said.
"The streets of many towns are often very depressing, very bland, just bricks and double-glazed windows, and by and large all streets look the same... ours is now different."