Woodhill prisoner told lawyer of anxiety and suicide plan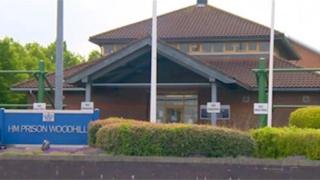 A 21-year-old man found dead in his cell while on remand charged with raping a teenage girl had warned he planned suicide, an inquest has heard.
Lawyer Shona Lockwood told Milton Keynes Coroner's Court Sean Brock was anxious about going to prison.
His body was found at HMP Woodhill in Milton Keynes on 10 November after a medical expert said he was not at risk.
Mr Brock was held on suspicion of raping a 14-year-old girl he was having a relationship with, the court heard.
After a court appearance in Northampton Mr Brock was transferred to HMP Woodhill and had told his solicitor about his plans to kill himself.
'No obvious risk'
At the inquest on Thursday Ms Lockwood said: "He was anxious and scared of going to prison."
Her client had also told police he was suicidal, she added.
Prison officers assessed Mr Brock when he arrived at HMP Woodhill, but they said he was talking positively about the future.
He admitted to a history of self-harming but said it was a long time ago.
Medical expert Meta Norman told the court: "There was no obvious risk with Mr Brock. His demeanour was not of someone who was in a suicidal state."
On 10 November, a prison officer checked Mr Brock's cell at about 08:15 GMT. Two hours later he found Mr Brock hanging.
The inquest continues.