Greg Rutherford Milton Keynes 'Leaping Man' statue completed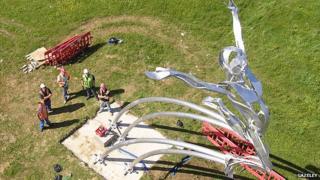 A giant metal statue in honour of Olympic long jumper Greg Rutherford has been completed in Milton Keynes.
The 26ft (8m) "Leaping Man" has been erected on the A421 Fen Street Roundabout near junction 13 of the M1.
David Hopkins, the councillor behind the £100,000 scheme, said it was "fantastic" and "truly iconic".
Rutherford, who lives in Woburn Sands and leapt to gold medal glory at London 2012, tweeted that the statue was "blooming amazing".
The artwork, by artist Clare Bigger, was funded by developers Gazeley after being stipulated as part of the planning process by Milton Keynes Council for the building of the adjacent Magna Park.
The final touches of landscaping are due to be finished in the next few days.
The company's UK director Alex Verbeek said the artwork was something the town could be proud of.
Mr Hopkins said: "The statue is fantastic, truly iconic, and will set the perfect tone and image for people coming to MK for the first time.
"We are all delighted and proud to see it finally in place".
Greg Rutherford recently had his British long jump record which he set in April ratified after his rival Chris Tomlinson questioned its legitimacy.