Buckinghamshire Healthcare NHS Trust out of special measures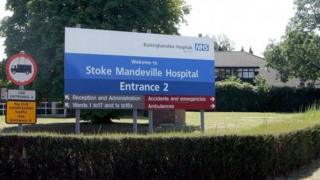 Buckinghamshire NHS Trust has been taken out of special measures after its latest inspection by the health watchdog.
Action was taken last July after a review of hospitals across the country with higher than average death rates.
The Care Quality Commission (CQC) revisited the trust's three main hospitals at Amersham, High Wycombe and Stoke Mandeville in March.
All have made "significant progress", according to the report..
Buckinghamshire Healthcare NHS Trust was one of 11 hospital trusts placed in special measures last year, after 14 were investigated over high death rates.
Teams of external experts were sent in to work with senior management teams.
'Real differences'
The March inspection looked at nine areas across the three Buckinghamshire sites including A&E, surgery, critical care and maternity.
Inspectors found "real differences [had been] made in a relatively short time to improve quality and the patient experience".
Overall the trust was rated as "requires improvement", although it received a "good" rating for caring staff.
Chief inspector of hospitals Prof Sir Mike Richards said the CQC recognised the trust had "worked hard to improve" with new services introduced and others reorganised to manage flow of patients and improve emergency care.
Trust chief executive Anne Eden said it had been a "challenging" year but it was pleased the improvements had been recognised.
"I have been heartened by how tirelessly staff have worked to improve standards to ensure our patients are offered the safe and compassionate care we strive for," she said.
"We will not be complacent.... we know there is more work still to do."
The trust will now receive further support to improve its performance in other areas of concern - including staffing levels - and the speed it deals with patients.