Bletchley Park 'secret' codebreakers: Hundreds more named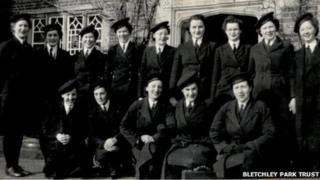 Hundreds more people have admitted they, or their relatives, worked at the home of the World War Two codebreakers.
The Bletchley Park Trust set up a "roll of honour" last October, including details of about 10,000 veterans, but asked for more to come forward.
The trust said some former Government Code and Cypher School workers had been "apprehensive" but most were "delighted" to talk.
Nearly 500 more names have been added to the roll since October's appeal.
"It's wonderful that so many veterans have come forward to share their unique and precious memories - and there's always room for more," said trust spokeswoman Katherine Lynch.
Workers at the Buckinghamshire site used the Bombe machine to break codes generated by the Enigma machine, which was used by the German navy, air force and army to send encrypted messages.
Some historians believe the codebreakers may have shortened the war by up to two years.
All the workers had to sign the Official Secrets Act when they first arrived, and their stories only started to come to light in the 1970s.
Archive officer Jonathan Byrne said the majority of veterans who had recently come forward were "more than keen" to discuss their work.
"We usually go to interview them and they are delighted to have someone come round so they can talk about it," he said.
"There are a few who are still apprehensive, which is frustrating for us, but they were told at the time not to talk and you can understand their reluctance.
"But on the whole we usually persuade them it's OK."
Mr Byrne said some had given more details about those already on the list, which helped the trust "build up the bigger picture".
"It's detective work really - but it's fascinating," he said.