Hertfordshire Police sorry for World Cup tweets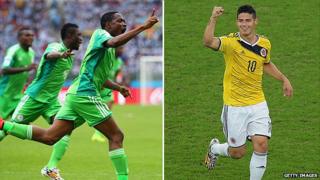 A police force has apologised after tweeting about drug dealing and fraud during Colombia and Nigeria's World Cup matches.
Hertfordshire Police tweeted: "Colombia face Uruguay in the FIFA World Cup. To report drug dealing visit...".
Last week it also tweeted an anti-fraud message during Nigeria's game with Argentina.
The force, who deleted the tweets after receiving complaints, said they were based on countries' crime rates.
The tweets also included links to longer messages about problems in the two countries.
Regarding Colombia, the message said: "Illegal armed groups and other criminal groups are heavily involved in the drugs trade.
"If you have any information about drug dealing, please visit www.herts.police.uk/operationcrystal."
The message about Nigeria said: "British nationals are increasingly being targeted by scam artists operating in West Africa.
"For information and advice on protecting yourself from 'romance fraud', please visit www.herts.police.uk/fraud."
Bukky Olawoyin, a Nigerian and former Conservative councillor for Welwyn Hatfield, said on Twitter: "I assume there has been a mistake somewhere. They won't intentionally aim to offend on a day of celebration."
Monica Merino commented: "@HertsPolice as a Colombian-UK national I feel disappointed & insulted with your ignorance. Lame!"
During Bosnia and Herzegovina's last game, the force tweeted advice on rural crime.
A Hertfordshire Police spokesman said: "We would like to apologise to anyone who has been offended by the tweets issued by Hertfordshire Constabulary linked to the World Cup.
"Our only aim was to give crime prevention advice about issues which may affect communities in Hertfordshire, having researched crime issues for the countries involved in the tournament.
"In order to prevent any further offence we have removed the posts."