Welwyn Garden City 'murder victim stabbed on doorstep'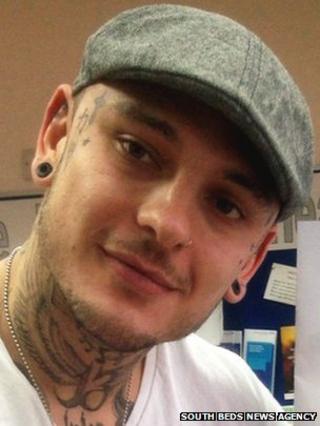 A man was fatally stabbed on the doorstep of a Hertfordshire flat, a court has heard.
Scott Stone, 26, was knifed outside the flat of the neighbour of his partner in Welwyn Garden City, St Albans Crown Court was told.
Paul Dillon, 53, denies charges of both murder and manslaughter over the death, on 16 March 2014.
Mr Dillon tried to force entry into Rachel Lowes' flat and Mr Stone later confronted him, the jury was told.
The defendant is accused of holding a knife when he opened his door and stabbing Mr Stone through the heart.
Collapsed in stairwell
Ms Lowes had earlier gone out for the day with Ebony, the daughter she had with Mr Stone, because Mr Dillon was playing loud music, the court heard.
Tensions had developed between the couple and the defendant over loud music played at anti-social times, prosecutors said.
On Ms Lowes' return, with her daughter to Guinness House, Little Hardings, on the Panshanger Estate, the two neighbours rowed and Mr Dillon had tried to force his way into her flat.
Mr Stone heard of this while he was at his mother's home and went to the flat to confront Mr Dillon.
When he arrived the defendant suddenly appeared in the doorway, Kevin Barry, prosecuting, said.
"Rachel saw the defendant come out and lunge towards Scott without saying a word," he said.
"Rachel thought at first the defendant had used his fist to punch him."
But he had been fatally stabbed.
CCTV footage from the block of flats, seen by the jury, showed Mr Stone in the corridor seconds after he had received the fatal injury.
He was making his way to a stairwell, where he collapsed moments later.
The case continues.