Spring Hill absconders both arrested in Aylesbury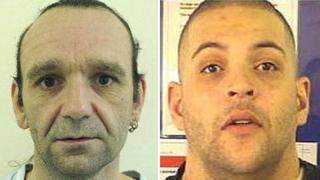 Two "violent" criminals who absconded from an open prison in Buckinghamshire have been arrested, police said.
Ricardo Dunn, 32, serving an indeterminate sentence for an assault in Burnley in 2009, was arrested in Aylesbury on Wednesday night.
Murderer Darren Douglas, 46, serving life for a killing in Birmingham in 1998, was spotted on CCTV at a bus station in the town and arrested.
Both had fled HM Spring Hill in Grendon Underwood on Sunday.
A man aged 25 and a 41-year-old woman, both from the Aylesbury area, have been arrested on suspicion of assisting an offender.
Supt Gez Chiariello, of Thames Valley Police, said: "Hopefully life in Aylesbury can now return to a state of normality."