Sonisphere Festival: Fines for fairground ride injuries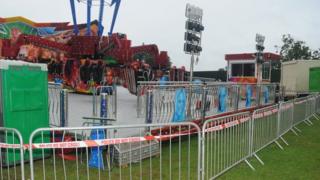 A fairground ride maker and inspectors have been ordered to pay nearly £50,000 after a teenager suffered "life-threatening" injuries when he was thrown from a ride at a rock festival.
The 15-year-old was on the Orbitor Extreme ride at the Sonisphere Festival in Hertfordshire in 2009.
The Health & Safety Executive (HSE) said none of the defendants properly fulfilled their duties.
The victim survived but had a torn aorta and had pins fitted in his ankle.
The HSE, which brought the charges at Cambridge Crown Court, said the schoolboy came free from the ride's car harness and was propelled through a fence at the festival at Knebworth Park.
'Number of defects'
He was also treated for a broken shoulder and ribs at the Lister Hospital in Stevenage.
The HSE said the ride was on its third outing after being handed over to its new owner by the manufacturer and its investigation found a number of defects that were not picked up during the design, testing or sign-off stages.
Two ride inspectors admitted breaching health and safety law.
Martyn Lacey of Gedling, Nottingham and Frederick Meakin, of Five Counties Caravan Park, Greetham in Rutland, were each fined £8,000 and ordered to pay costs of £10,000
The manufacturer also admitted breaching safety laws.
Perrin Stevens, of Oakley Green Road, Windsor in Berkshire was fined £3,000 and ordered to pay £3,000 costs.
He was sole director of Perrin Stevens Ltd. of Farlington, Portsmouth and the company was separately fined £3,000 with £3,000 costs.
Stephen Manley, HSE inspector, said: "There are defined procedures to follow to make sure rides are safe when they are designed, built and used.
"In this instance, not one of the parties involved properly fulfilled their duties, and the outcome was a very serious but entirely preventable incident, which could easily have cost a young teenager his life."