Sean Cleathero 'died after taking DNP in High Wycombe gym'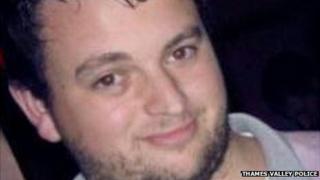 A man died after drinking a toxic herbicide that was sold to him as a weight loss aid, a court heard
Sean Cleathero, 28, took the drug Dinitrophenol (DNP) while bodybuilding in High Wycombe in 2012.
He was taken ill and later died in hospital.
Jamie Chivers, 44, Peter Purkins, 47, and Jason King, 41, are on trial at the Old Bailey accused of Mr Cleathero's manslaughter on 16 October 2012. They all deny the charges.
The jury was shown CCTV footage from the gym showing the victim drinking the bright yellow liquid and then start to sweat.
'Fat burner'
Prosecutor John Price QC said: "The minute he drank the contents of that glass he was a dead man because there is no antidote for what he consumed."
He was taken by ambulance to Wycombe Hospital, but died in intensive care eight hours later.
Mr Price told jurors that DNP was not a controlled drug and had a legitimate use as an insecticide or herbicide, but it was not fit for human consumption and to swallow it was to take a poison.
"Despite that, it never the less has a long history of misuse by humans as what is called a fat burner, as the name implies those who take it do so to assist in an attempt to lose weight," he said.
The court heard Mr Chivers, of Spring Gardens Road, High Wycombe, Mr Purkins, of Heather Walk, High Wycombe, and Mr King, of Hazell Road, Great Missenden, were involved in Precision Laboratories where the drug was produced and Apollo Fitness where Mr Cleathero trained.
Mr Price said the victim ordered the drug in powder form from Mr Purkins because he said tablets had not worked.
He said Mr Chivers then dropped it off at the gym, with Mr King handing it over the counter.
Laura Hague, 23, of Orchard Grove, Chalfont St Peter, also denies conspiracy to produce and supply a class C drug.
In addition, Mr King and Ms Hague deny perverting the course of justice by removing incriminating evidence.
The jury was told Mr Chivers had admitted perverting the course of justice.
The trial continues.