Bodyflight zip wire crash companies fined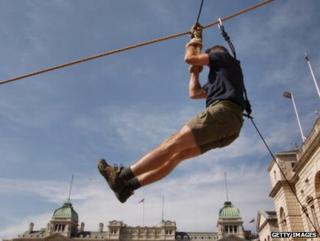 Two companies have been fined £200,000 each after an instructor was paralysed from the waist down on a zip wire ride.
Brett Anthony was injured in 2011 after the wire's braking system was not reset at Bodyflight in Milton Earnest, Bedfordshire.
Bodyflight and Mr Anthony's employer, Flowhouse (Bedford) Ltd, had admitted three health and safety offences.
The judge at Luton Crown Court said the employee had suffered a loss of bladder, bowel and sexual function.
The accident happened on the 640ft (200m)-long zip wire known as The Swoop in September 2011.
'Reckless'
The court heard the wire's braking mechanism had not been reset and Mr Anthony hit cables and a frame at the bottom, having reached a speed of about 35mph (56km/h) on the way down.
Mr Anthony is now in a wheelchair and has had a kidney transplant.
It followed a similar accident in January 2011, when the braking system had not been reset and a girl had to be caught at the bottom by an instructor.
The prosecution said Bedford Borough Council had told the companies to carry out a proper risk assessment following the first incident, but that had not happened.
Judge Phillip Bartlett said: "[Mr Anthony] was an active 20 year old who enjoyed sport. He cannot live the life he led before the accident.
"He cannot have an intimate relationship.
"I am satisfied that the defendants were reckless and not merely careless."
The two companies were also ordered to each pay costs of £32,878.