Houghton Regis bird food man banned by court injunction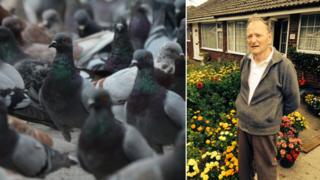 Neighbours who claim their street is being covered in droppings have secured a court order stopping a man from putting food out for the birds.
They claim up to 30 pigeons can descend at any one time in Houghton Regis, Bedfordshire.
A Luton County Court order has banned Clifford John Coots from putting out trays of food, which included meat, in front of his home.
He has claimed his neighbours are exaggerating the extent of the problem.
People on Dunstable Road originally complained to Leighton-Linslade Town Council in 2011 after their requests to Mr Coots went unheeded.
'Talking stupid'
Carol Coots, who is Mr Coots's sister-in-law and lives opposite him, said: "I've got bird mess up my windows and all over my car."
Ron Curruthers, another neighbour, said: "Everyone feeds birds, but we don't throw out sausages and raw meat.
"We get rats, foxes, 20-30 pigeons on the roof and it's all over your car."
In October, Mr Coots agreed to sign a legal undertaking not to feed birds using anything except one feeder hanging from a tree.
But the council said the problem continued and it had now secured a full court injunction prohibiting him from "feeding or enticing or making available food for wildlife within his property, garden or within 100 yards of his property".
When talking to a BBC Three Counties reporter, Mr Coots accused his neighbours of "talking stupid".
He said: "I can do what I like on my property. How is it I don't get [droppings] on my house?"
Councillor Brian Spurr said: "Since we got involved with Mr Coots in 2011 we have done everything to try and help him understand the impact his actions and behaviour were having.
"Unfortunately, our efforts have not solved the problem so we have had to take action."