Billy Wells 'robbed of early childhood' over diagnosis delay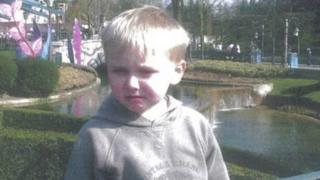 A young boy was "robbed of his early childhood" after health workers failed to notice his poor eyesight and medical tests were delayed, his family said.
Billy Wells, of High Wycombe, was only diagnosed with a deteriorating eye condition when his parents realised he did not look at the camera in photos.
Charlie and Tracy Wells have won an undisclosed settlement after the NHS admitted breach of duty.
Buckinghamshire Hospitals NHS Trust said it was "sincerely sorry".
In a statement, the NHS trust said it had made changes to "strengthen our policies and procedures".
It said: "The trust is pleased that an amicable settlement has been reached between the parties, and wishes Billy and his family well for the future."
Billy's parents, from Flackwell Heath, said their son would always sit very close to the television, cry for a bottle when it was in front of him and struggled with co-ordination.
They asked health workers and their GP several times to try and find the cause but were always assured he was fine, they said.
They took him to the opticians themselves following a family holiday to Disneyland when he was five.
"When we asked him why he didn't turn to look at the camera he said that he simply didn't see where it was.... this set alarms bells ringing.," said Mr Wells.
"The tests revealed his sight was very poor to the point where he could barely see anything at all.
"We were devastated and could not believe he had gone through so many years of his young life not being able to see properly.
"We feel that he was robbed of his early childhood."
He was diagnosed with hypermetropica amblyopia, a type of extreme short-sightedness, in both of his eyes.
He was later also diagnosed with the development co-ordination disorder dyspraxia and Attention Deficit Hyperactivity Disorder (ADHD).
The settlement followed an admission of liability from the trust for breach of duty.
The money will fund future occupational therapy, optical and physiotherapy costs and extra tuition.
Mr Wells said he was pleased Billy's future quality of life was secured.