Welwyn Garden City murder: Paul Dillon jailed for life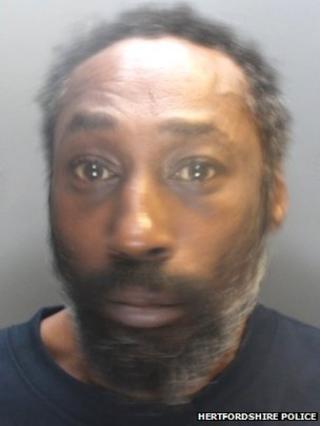 A man who knifed his neighbour's partner in the heart at a Hertfordshire flat has been jailed for life.
Paul Dillon, 53, had tried to get into Rachel Lowes' flat and when Scott Stone, 26, found out he confronted him.
Dillon opened the door to his Welwyn Garden City flat, holding a knife and murdered Mr Stone.
Judge Stephen Gullick at St Albans Crown Court rejected a self defence bid and said Dillon was the "aggressor". He must serve at least 22 years.
The court heard Mr Stone was angry after hearing Ms Lowes, who lived at Guinness House in Little Hardings, had got into an argument with Dillon in the communal corridor on 16 March 2014.
Dillon had tried to push his way into the young mother's flat calling her a "fat whore" in front of her daughter.
Family devastated
Mr Stone, who had been drinking with a friend, heard about the incident and stormed round to Dillon's flat where he hammered on the door.
The knife blow that followed damaged Mr Stone's lung, pierced his heart and stopped near his spine, the court was told.
The jury heard there had been friction between the neighbours because Dillon played loud music at unsocial times and Ms Lowes had reported him to the authorities.
Judge Gullick said: "You were the out and out aggressor who attacked Scott Stone."
He said although the victim had been "hot headed" and unthinking, it could not justify what Dillon had done.
Mr Stone's family said in a statement:"We have been left absolutely devastated by the loss of Scott.
"Whilst we are pleased to see justice done, we have all been robbed of a great son, a genuine friend and partner and his daughter has lost her father who she adored."