Cranfield University base for new £35m aerospace centre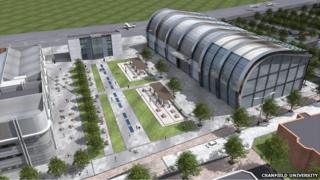 A £35m aerospace research facility is to be built in Bedfordshire.
The centre at Cranfield University will be used to research performance and emission control, so efficiency targets can be met on future aircraft.
The Higher Education Funding Council for England has awarded £10m towards the project.
The university says the site will boost the UK's aerospace industry and secure work for engineers and academics. It is expected to open in 2016.
Cranfield University, which is entirely made up of postgraduates, has been involved in aerospace since 1946 and has its own airport, flying laboratories and flight deck simulators.
It is one of three university and business partnerships receiving a total of £50m of public investment for research projects to "drive innovation and growth in the UK".
Prof Sir Peter Gregson, chief executive and vice-chancellor of Cranfield University, said the funding would help "change the design of future aircraft".