Matt Allpress death: Mother talks of worldwide support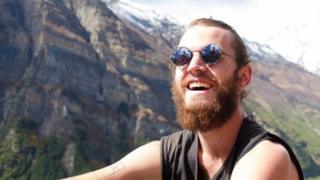 A mother has told how she made "phenomenal" friendships around the world, as she searched for her missing son, before he was found dead in Nepal.
Backpacker Matthew Allpress, 23, disappeared in November after a trek.
His mother Margaret, from Luton, said she refused to believe he had died as she co-ordinated search efforts and an international social media campaign.
A memorial service, with an estimated 500 people in attendance, was held in Perth, Australia, on Friday.
"Until it was proven to me that he wasn't alive, I couldn't use the d-word," she said.
"I told myself lots of stories of how it might possibly not be him - that was the hope inside me, hoping it wasn't going to be him.
"My last message was 'I hope you're not going alone' and he never answered me - I could box his ears for that."
Mr Allpress, an Australian citizen, was missing for six months.
His skeletal remains were discovered by Nepalese foragers in May and identified by medical and dental records by doctors at a hospital in Kathmandu.
His mother said her time in Nepal was "frustrating" as it "took so long to do everything".
Throughout her search for answers, she said social media played a vital role
More than 3,000 people joined the #findmatt campaign on Facebook - support Ms Allpress describes as "amazing".
"The friendships that have been made around the world are phenomenal," she said.
"When I was in Nepal meeting the parents of other missing children, it was comforting and encouraging to know you had people behind you, supporting you and telling you that what you were doing was the right thing - because sometimes I doubted what I was doing.
"The #findmatt team started on 17 December. They wanted to do something well before that, but I kept saying 'no, no, no' because we all assumed I was just going to walk down the street and bump into him - that just wasn't to be.
"I was there [in Nepal] searching so I was doing something proactive and his mates, because they were so close, needed to do something as well."
A public memorial for Matt was held at the St Thomas More Catholic Church, in Perth on Friday.
"For us to celebrate his life, it couldn't be done in black so everyone was told black was optional and to wear something Matt would have liked."
The coroner's report is not expected for three months but his family plans to lay his remains to rest in the sea.
"Travelling up to Nepal and being landlocked, he was desperate to get back to the ocean and that's where he's going to go," said Ms Allpress.
"He will be committed...somewhere between Freemantle and Rottnest Island."
Paying tribute to her son, she said people "knew their own version of Matt".
"He was multi-faceted, gregarious, articulate, opinionated and he could talk about many subjects on hugely different levels with a wide range of age groups," she said.
"When the boys were little I always said 'you can be devils inside this house but when you're in somebody else's, I need you to be angels' and I think that just stuck - he's now my angel."