Biggleswade Academy's parent-funded iPad plan criticised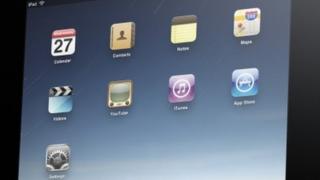 Parents have claimed a school is creating a "two-tier" education system by asking them to buy iPads for their children to use in class.
The Biggleswade Academy in Bedfordshire wants parents of children in years 5 and 6 to pay up to about £300 for the tablets to "personalise education".
The school said it was optional and parents would not be forced to sign up.
But parents have said they feel "under pressure" to spend the money and "bullying has already started".
Leanne Holt, who has two children in the school, said she agreed tablets had "great educational benefits", but the school was "very naive if it thought there wasn't going to be a two-tier education system".
"The information states that if children haven't got their own, they may be able to borrow one but there will be limited functionality," she said.
"They imply that without their own device your child will be at an educational disadvantage."
'Next level'
The school said monthly payment options of between £10 and £20 were available and those eligible for free school meals could be helped with up to 80% of the cost.
A spokesman said it had seen "real benefits" from its shared tablets and wanted to "take it to the next level".
Vice principal Mark Steer said: "We think the personalisation of education through the one to one device will be absolutely fantastic for the children.
"We are looking to equip them with all the skills they need to move into the ever changing world."
The project meant access to the devices would be "dramatically enhanced" and therefore benefit every child, he added.
He said he was "not aware of any [bullying] issues" but would pursue any that came to light.
"We would make sure children were aware it was an optional project and they shouldn't be making any distinctions on the basis of that," he said.