Drowned boy Kyrece Marshall was 'kind and beautiful'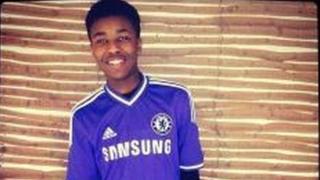 A boy who drowned in the River Thames was a "kind, well mannered and beautiful boy", his family have said.
Kyrece Marshall, also known as Kyrece Francis, 13, was swept into deep water near Gossmore Lane, Marlow, Buckinghamshire, on Tuesday afternoon.
It is thought he was trying to retrieve a ball. He was found by police divers just after 20:00.
His family said they had not only lost a son but an "angel that would make everyone around him smile".
"He was a very kind, well mannered and beautiful boy with a bright future in front of him," a statement said.
"We will miss him with all our hearts and we hope that his legacy will live on."
Friends who gathered at Great Marlow School to pay tribute also called him "charming, friendly and sociable".
Wycombe Wanderers Football Club said the "talented and popular pupil" was the stepson of former Chairboy Lewis Cook and "as a mark of respect" the club had left a Wanderers shirt signed by the squad at the school.
"Our thoughts are with the friends and family of Kyrece," a statement said.
Thames Valley Police have warned of "unseen hazards" in the river, especially following the floods earlier this year.