Police divers searching Clophill lake for missing boy find body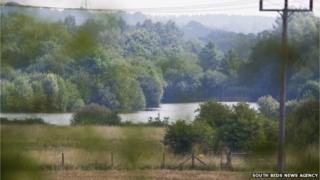 Police divers searching a lake in a disused quarry for a missing 16-year-old boy have recovered his body.
Conor McColl from Luton disappeared at a former Fuller's earth quarry in Clophill, Bedfordshire, on Thursday evening while swimming with friends.
Officers were at the scene all night and continued their search on Friday.
The fire service had rescued two other teenage boys from an island in the lake on Thursday. Conor's body was found at 13:20 BST on Friday.
Police said he got into difficulties and went under the water.
One villager, who did not want to be named, said children had been climbing over the fence and getting into the water "for ages" and it was "an accident waiting to happen".
"Once the Fuller's earth had been extracted, we wanted to take over the land ourselves and turn it into a leisure park for the village, which would have had proper security and supervision," he said.
"The problem is that it used to be a quarry and the water is very, very deep."