Kettering Town FC plans to move back to town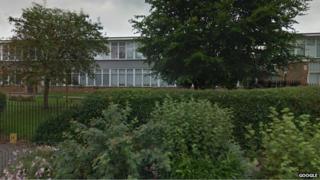 A football club that has had to play outside its home town in Northamptonshire for several years is planning to make a return.
Kettering Town FC are looking at a possible new stadium built on the site of the former Avondale school.
Over the past few years the Poppies, as they are known, have been based at Rushden and Burton Latimer.
Director Ken Samuel said the club wanted to build a new ground and health centre on the school site.
However, Northamptonshire County Council owns the land and already has a planning application in for 72 new homes there.
The council said: "We have previously agreed with Kettering Borough Council that part of the Avondale site will transfer to the Crescents Community Centre and another part will transfer to The Ronald Tree Nursery.
"The remainder of the site is earmarked for development.
"We're happy to talk to the football club about their proposal but as yet, we have not received a formal approach."
Mr Samuel said the club's plans were still at a very early stage.
Letters have gone out to residents living near the school grounds as part of the club's consultation over the plans.
A public meeting is to be held on Monday at the Crescent Community Centre in Laburnum Crescent.
Mr Samuel said the stadium would be smaller than the ground at Rockingham Road where they were based for more than a century until it was repossessed.
The school site, the club says, has large playing fields for the stadium and the buildings could be renovated to house the healthcare centre and club offices.
Mark Severn, from the Kettering Town Supporters Trust, welcomed the plan to move back.
He said it was "very exciting", especially in the light of 12 months ago when the club faced a winding up order they successfully challenged.