Bedford Hospital 'could lose' maternity services and in-patient care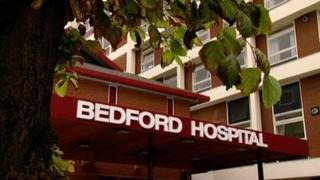 Bedford Hospital could be left with no maternity services or any beds on site as part of an NHS services review, the town's elected mayor said.
Dave Hodgson said five options for the hospital's future had been shown to stakeholders by the Bedford Clinical Commissioning Group (BCCG).
The two preferred plans would end all children's services and one would stop in-patient care.
The BCCG's chief clinical officer said the options were "not final".
The £3.2m review is being undertaken by the clinical commissioning groups for both Milton Keynes and Bedfordshire (MKCCG and BCCG).
An earlier report said if nothing changed the hospitals faced a combined projected £47m deficit by 2019.
It put forward 14 options, which have been further shortlisted and scored on financial grounds and "access and deliverability" of care.
The proposal to become an Urgent Care Centre, with no beds and a GP-led A&E department, scored six points, with an Integrated Care Centre scoring seven.
Both would see Milton Keynes Hospital's services remain largely unchanged.
'Theoretical models'
Dr Paul Hassan from the BCCG said: "Financially [the two options] score better when you look at the national policy for how we have to financially align them.
"However, this is not the end of the review, this is an update.
"Those are theoretical models that are being further explored."
Liberal Democrat Mr Hodgson condemned the options as a "devastating" future for local patients.
"These appalling plans leave Bedford hospital facing a future with no births, and no beds," he said.
"They will force young children, the elderly and the seriously ill to travel long distances to access vital services at hospitals rated as less safe than Bedford."
Final decisions are due to be made in 2015 after a public consultation.