Shahzad Mahroof admits plot to 'break Atif Ali's legs'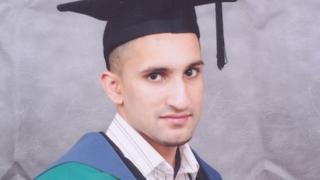 A man accused of hatching a plot to kill has told a jury he arranged for his love rival's legs to be broken, but did not intend to murder him.
Shahzad Mahroof, 28, is one of six men who deny conspiring to murder Atif Ali, 28, who was shot in Luton in May 2013.
Mr Mahroof told Luton Crown Court he wanted fellow accused Bernard Pillay, 41, to "teach [Mr Ali] a lesson".
Both men admit conspiracy to commit grievous bodily harm. All six defendants deny conspiracy to murder.
Mr Mahroof, of Selbourne Road, Luton, told the jury he arranged an attack because he discovered Mr Ali was planning for someone to break his legs first.
The court was earlier told how Mr Mahroof bought a car that was deliberately crashed into Mr Ali's silver Audi at the junction of Leicester Road and Dunstable Road.
Mr Ali was shot in his left thigh at close range when he got out to inspect the damage.
At the time of the shooting, Mr Mahroof was "intent on pursuing a relationship" with Nazeem Dadd, who was from Luton and was engaged to Mr Ali, the prosecution claimed.
Over nine years, Miss Dadd's family had twice blocked a marriage between her and Mr Mahroof.
Mr Mahroof said he wanted someone to teach Mr Ali a lesson, but the "intention was to break his legs".
He met Mr Pillay, of Campion Close, Uxbridge, in April 2013 and discussed what could be done but made no further contact with him until he heard Mr Ali was still planning an attack.
Mr Pillay told Mr Mahroof he was going to "put one in [Mr Ali's] leg".
Mr Mahroof said he "did not understand", but replied "do what you have to do as long as his leg is broken".
"I had no reason to kill him," Mr Mahroof told the court.
Mr Ali suffered life-threatening injuries in the attack and needed a seven-hour operation to save his left leg.
Matthew McCafferty, 23, of Roman Way, Flitwick; Mark O'Neil, 41, of Lansbury Drive, Hayes; Mahmood Baig, 31, of Overstone Road, Luton and Sajad Hussain, 31, of Portland Road, Luton, all deny conspiracy to murder and conspiracy to commit grievous bodily harm.
The trial continues.