Tring 'poo' pong 'not human waste'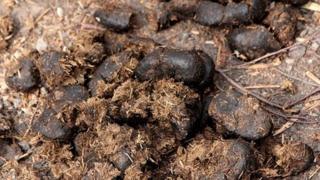 An "overpowering" smell from fields that has afflicted a Hertfordshire town is not human waste, officials say.
Angry residents in Tring believed the pong, which they said had trapped them in their homes, had come from sewage sludge being used as a fertiliser.
Following an investigation, Dacorum Borough Council said the manure was "non-human" and the warm weather had created the strong odour.
The farmer has been told to stop spreading until the weather is cooler.
Sharon Maxfield, of Icknield Green, told the BBC a pollution officer at the council who had spoken to her following complaints had initially believed it was human waste.
'Sweet and overpowering'
Describing the stench, she said: "I can't have my back door open. The smell is so intense it almost makes my eyes bleed.
"It gets me in the back of the throat, I've got a headache since last week.
"You don't want to eat anything. It's not nice for the children - they can't go out in the garden."
Other residents told BBC Three Counties Radio they had not been able to put their washing out and described the smell as "sickly, sweet and overpowering".
Dacorum Borough Council said a farmer started turning in non-human "farmyard clamped manure", meaning it is covered and left to rot, on Saturday.
It said the warm weather had created the stench and the farmer had been told to stop spreading the final half of his field until the weather is cool or wet.
Thames Water confirmed the odour was not related to its treatment works, adding it was "not using sewage sludge as a fertiliser in this area".
The National Farmers Union (NFU) said human waste is regularly spread on fields for soil nutrition, but there are guidelines that water companies and farmers have to adhere to for it to be made as odourless as possible.