Bletchley Blue Lagoon: Woman pulled out in serious condition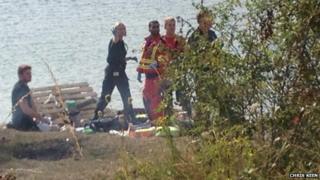 A woman has been pulled alive from a lake near Milton Keynes where a 61-year-old man died last week.
The man died following a suspected "medical episode" while trying to fetch a ball from the Blue Lagoon in Bletchley on Friday evening.
Police were again called to the lake at about 17:30 BST on Wednesday.
The woman, believed to be in her 20s, was airlifted to hospital in Oxford where she remains in a critical condition.
SaferMK, a group representing the council, the fire, police and probation services, said it was stepping up patrols around local lakes, canals and river sites.
It has been handing out leaflets warning of the dangers and is also due to add extra warning signs.
Milton Keynes Council has told residents "we cannot keep you safe if you swim in open waters".
"These incidents highlight the dangers," said council leader Peter Marland.
"By all means have fun by the water but it is up to all of us to act responsibly both individually and when in a group so we can avoid a repeat of the tragic incidents."
The latest incident follows the deaths of three teenage boys in open water last week.
Kyrece Marshall, 13, died on Tuesday while trying to retrieve a ball from the River Thames in Buckinghamshire.
The body of Rony John, 15, was recovered from the River Great Ouse in Cambridgeshire.
The body of 16-year-old Conor McColl, from Luton, was recovered from a lake at a former Fuller's earth quarry at Clophill, Bedfordshire.