Bedford murder accused 'at home at time of attack'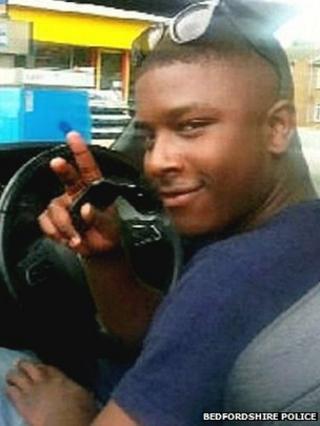 The sister of a man accused of killing a rapper was "confident" one of her brothers was at home when the attack happened, a court heard.
Isaac Stone, 19, was chased, trapped and set upon by four men who stabbed him several times in a Bedford street in January, Luton Crown Court was told.
Mohammed Hussain, 22, Rubel Miah, 19, Javed Miah, 21, and Fahim Khan, 20, all deny murder and attempted murder.
Javed's sister Shiuly Begum said she saw the attack near her family home.
Ms Begum, sister of Rubel and Javed Miah, was seen on CCTV leaving the terraced house, in Costin Street, after hearing the attack on Mr Stone.
'Very distressed'
The court was told she held back another of the four defendants, Mr Khan, and shouted: "Fahim, come on leave it."
In the witness box, Ms Begum said after going outside she returned home in a "very distressed state".
In the hall of the house she saw her mother, her younger sister and her brother Javed, she said.
Asked by Mr Coughlin if she was sure Mr Miah was in the house, she replied: "Confident - 100%."
Prosecutor Vincent Coughlin, QC, said Mr Stone, who performed under the name Dynamikk, was driving his friend Shajidur Rahman and two passengers in Costin Street, at 18:20 GMT on 25 January, when the attack took place.
He said the defendants had bought two meat cleavers from a hardware shop in Bedford.
The court heard Mr Rahman was also injured in the attack, suffering four deep slashes to his head and face, with his nose effectively being cut off.
Mr Hussain, of Maitland Road; Rubel and Javed Miah, of Costin Street; and Mr Khan, of Fenlake Road; all in Bedford; also deny two counts of possessing an offensive weapon.
The trial continues.