Missing Sonica Hans: Renewed search for Bedford woman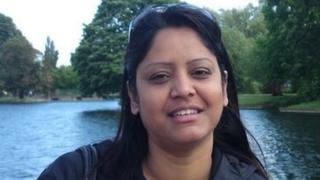 The River Great Ouse in Bedford is being searched by police in a renewed hunt for a woman who went missing from the town nearly two years ago.
Sonica Hans, 35, was last seen leaving the Priory Court flat she shared with her sister on Boxing Day in 2012.
Someone matching her description was seen on CCTV near The Swan Hotel on the Embankment a short time later.
Bedfordshire Police said they were revisiting the case because of advances in technology.
Indian-born Ms Hans left her home with a friend at about 13:30 GMT telling her sister Manisha she was going to the shops and would be straight back, police said.
Extensive searches along the river bank and other police and financial inquiries failed to provide any leads.
Now, police divers will search the river between Prebend Street and the Slipe Bridge.
'Standard' review
A police spokesman said it was "standard" to review missing persons enquiries.
Det Ch Insp Juliette Everett said: "We're revisiting the case because things do change all the time; new advances in technology, new information or some tiny detail we may have missed that can be revealed with a fresh look at what we know.
"Sonica's behaviour in just disappearing is totally out of character.
"No-one has any concrete reason why she would disappear, or harm herself, or be harmed by someone else."
Ms Hans, who is about 5ft 3in tall, has long black hair which was dyed dark brown.
She was last seen wearing red trousers, a black jumper and a dark blue jacket.
As well as searching the river, CCTV footage will be released of her visiting a shop in the town earlier that day.