Cat found shot and beheaded in Watford garden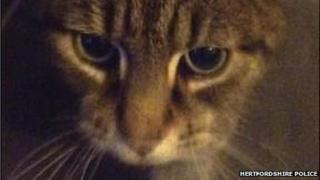 A cat has been found shot and beheaded in its owners' back garden.
Jess, a 10-year-old tabby, was found dead at a property in Westfield Avenue, Watford, on Sunday, Hertfordshire Police said.
A spokesman said the cat had been shot with a pellet gun and its head removed. The head has subsequently not been found.
The attack happened between Saturday evening and Sunday lunchtime. The force has appealed for witnesses.
Leo Sale from Hertfordshire Police, said: "Understandably the owners are extremely distraught at the loss of their beloved pet in such an inhumane way.
"This is a really serious and unusual incident that is very distressing and we need to speak to those involved urgently."