Leighton Buzzard train sex attack victim 'traumatised'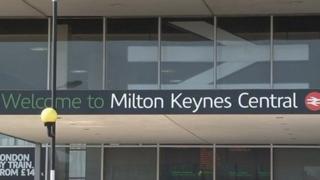 A woman was "left traumatised" when she was sexually assaulted by a man as she slept on a train between Euston and Milton Keynes, said police.
The 25-year-old woke up as the train passed through Leighton Buzzard to find the man touching her.
Anyone who was on the 18:49 BST Euston to Birmingham New Street service on Wednesday 13 August and may have seen what happened is asked to call police.
The attacker is described as Asian and in his 40s.
He was wearing a white shirt, which was either short-sleeved or had the sleeves rolled up, dark suit trousers and carried a heavy, dark shiny coat.
Sgt Mark Summerfield, of British Transport Police, said: "During the journey, [the woman] fell asleep only to be awoken as the train passed through Leighton Buzzard, by a man sexually assaulting her.
"She challenged the man, but he ignored her. She then demanded that he let her out of her seat, which he did."
Witnesses sought
The woman left the train at Milton Keynes and alerted police. Officers met the train at Rugby station but could not find anyone matching the description of the man.
Sgt Summerfield said: "We are keen to speak to anyone on the train who witnessed this incident or believes they have any information which could help our investigation.
"I am particularly interested in talking to two women who sat opposite the victim prior to the assault.
"One of the women had a laptop, the other was reading a book. Both got off the train at Leighton Buzzard.
"The victim has been left traumatised by this assault, and we need to find the man responsible as soon as possible."