Drowned boy Kyrece Marshall fund raises £12,000 in drowned boy's memory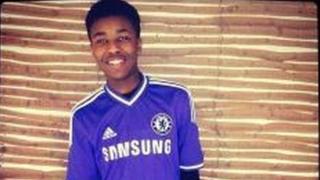 More than £12,000 has been raised in memory of a boy who drowned in the River Thames to provide safety equipment along river paths.
Kyrece Marshall, also known as Kyrece Francis, 13, was swept into deep water near Gossmore Lane, Marlow, Buckinghamshire, in July.
Kyrece's Legacy fund was set up to provide life jackets, buoys and warning signs on the dangers of river swimming.
Fund organiser Rachel Rowley said they wanted to stop it happening again.
It is thought Kyrece, who was a pupil at Great Marlow School, was trying to retrieve a ball when he was swept away.
'Something proactive'
Ms Rowley, Kyrece's aunt who was with him on the day he died, said his friends immediately decided to "do something proactive to stop anything so terrible happening to another family".
She originally asked for people to make loom bands to sell and was "overwhelmed", receiving about 5,000, which are still being sold.
An online fundraising page has also been set up with an initial £2,000 target.
Ms Rowley said she had been very surprised by the large response and now the campaign's initial deadline has been superseded, a new page will be set up.
"It's been amazing, to think how much has been done in a month," she said.
As well as the safety equipment, fundraisers are also looking to make a video and teach about the dangers in schools.
"We won't stop everyone, people are defiant and think it won't happen to them, but if there are signs warning them of the dangers, we hope they will think twice," she said.
"I have been contacted by so many other families, so many lives have been lost and nothing has been done, so we have to try."