Bedfordshire PCC Olly Martins: Evidence passed to CPS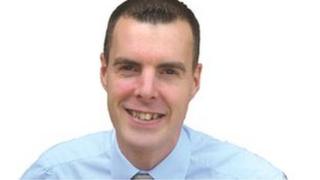 Evidence from a criminal investigation into Bedfordshire's police and crime commissioner is being examined by the Crown Prosecution Service (CPS).
The Independent Police Complaints Commission (IPCC) investigated Olly Martins after he admitted passing details about the death in custody of Leon Briggs to a Home Office worker.
The IPCC said the CPS would decide if criminal charges were warranted.
Mr Martins said he was "confident" the CPS would "make the right decision".
'Co-operated fully'
The Labour commissioner, who was suspended from the party on Wednesday, has already received a written warning, was interviewed under caution as part of the IPCC investigation.
"I have co-operated fully [with the investigation] and provided a full and detailed account of my actions," he said.
"Even though the threshold for the IPCC referring their investigation to the CPS is a low one, I am surprised the IPCC considered this case reaches that threshold."
Father-of-two Mr Briggs, 39, of Ashburnham Road, Luton, was arrested on 4 November following concerns raised by members of the public.
He became ill at Luton police station and was taken to Luton and Dunstable Hospital, where he died.
Seven members of Bedfordshire Police staff, including five police officers, have been suspended.
A separate IPCC investigation is being held into his death.