Stevenage man murdered in 'decades-old family feud'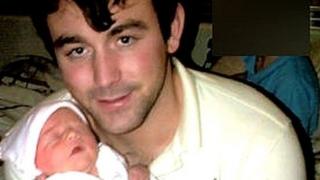 A Stevenage man was shot dead by his relative in a "feud between the two branches of the same family", a court has heard.
Thomas Ward, 21, died outside his caravan on a travellers' site in Dyes Lane, Stevenage, in April last year.
St Albans Crown Court was told Mr Ward's father was blamed for the death of two cousins, and Mr Ward was targeted because of that.
His second cousin, John "Boy" Ward, 33, denies murder.
Prosecutor John Price QC told the court Thomas Ward was the "victim of an execution".
"This was a planned ambush and he was the intended target," he said.
'Ambush and kill'
On 23 April last year, three masked men turned up at the home Mr Ward shared with his wife and newborn daughter.
He was shot in the chest and later died in hospital.
The prosecution alleged John "Boy" Ward, of Clarkson Court, Hatfield, was involved in the execution and planning of the attack.
Mr Price told the court "it was not possible to say who had fired the shotgun", but it was the Crown's case that John "Boy" Ward had travelled to the site in order to ambush and kill Thomas Ward.
Family feud
The jury heard the Ward family had been fighting since 1987, when Thomas' second cousin, Micky Ward, died in a car crash, and his parents blamed Thomas' father, James "Young Fox" Ward.
A few years later, James shot dead Micky Ward's brother - James "Bimbo" Ward - and was jailed for manslaughter in 1999.
But the court was told Micky and James' brother, John Boy, found the conviction "immaterial" and hatched a plot to kill his cousin's son, who "shared the sins of the father".
John Boy's wife, brother and sister have pleaded not guilty to assisting an offender.
The trial continues.