Watford fires and jewel thefts 'could be linked'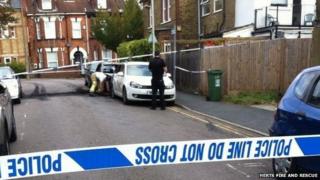 Raids on three jewellers at a shopping centre could be linked to three car fires, police have said.
Officers are investigating whether the blazes were used as a "diversionary tactic" before the raids at Watford's Intu centre at 02:40 BST.
Jewels were stolen from Beaverbrooks, Ernest Jones and Swag, police said.
Four men in balaclavas were later seen leaving the centre. Police said the raids could be linked to the three car fires nearby.
Two car fires were reported in Gladstone Road, less than half a mile from the shopping centre, at 02:35 BST.
A third car was found burning when emergency services arrived.
Five minutes later a break-in at the shopping centre, formerly known as the Harlequin, was reported.
It is believed the thieves entered and left the centre via the Gordon Scott shoe shop.
Gladstone Road and a section of the lower floor of the shopping centre were closed on Friday during investigations.