Three arrested after Waltham Cross canal car plunge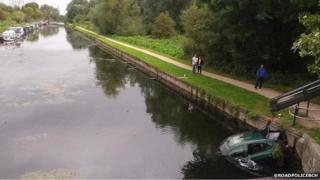 A car plunged into a Hertfordshire canal while being pursued by police.
It is alleged the vehicle failed to stop for officers at about 15:00 BST in Waltham Cross on Friday. It was driven along Lea Road and on to a canal path.
One person, 21, left the car and made off on foot while two other occupants, aged 17 and 19, were assisted out of the water by police officers.
They were arrested on suspicion of theft of a motor vehicle and released on bail while investigations continue.
A police spokesman said: "A 21-year-old male from Enfield was arrested on suspicion of failing to stop, on suspicion of being in possession of a Class A drug with intent to supply and on suspicion of two counts of being wanted on warrant for failing to appear at court."
The 17-year-old male suffered a minor head injury in the incident. The 19-year-old woman was unhurt.