Aylesbury child sex abuse case police charge eleventh man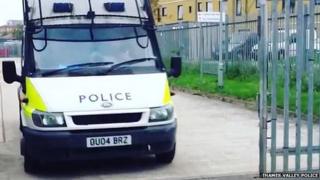 An eleventh man has been charged with child sex offences alleged to have taken place in the Aylesbury area.
Mohammed Imran, of Springcliffe Street, Bradford, is accused of six offences including three counts of raping a girl aged under 16.
Thames Valley Police had said he was due to appear at Milton Keynes Magistrates' Court earlier.
The charges relate to offences between 2007 and 2009.
Mr Imran, 37, has also been charged with two counts of conspiring to rape a girl under 16 years of age and one count of arranging/ facilitating the prostitution/ involvement in pornography of a child aged 13 to 17 years.
Thirteen properties were raided by police on 2 September as part of the same inquiry.
Ten other men have already been charged with sexually abusing girls under 16.
Three other men arrested in connection with the inquiry were released without charge.