Bedfordshire servitude raid: Eight found in 'cramped and filthy' conditions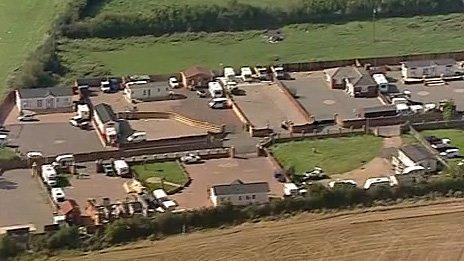 Eight people, believed to have been kept in servitude at a Bedfordshire caravan site, have been "liberated".
Police raided the Greenacres caravan park near Leighton Buzzard on Sunday finding seven men and a 17-year-old boy in "cramped and filthy" conditions.
Those who cooperated with officers were taken to a reception centre for medical, health, psychological and social welfare care.
Two men and two women were arrested following the raid.
This was the second raid at the caravan park in three years.
Police believe some of the men may have been held at the caravan park for many years.
Police were unable to confirm the nationalities of those who were reportedly being held against their will.
Ch Insp Tania Coulson said: "The men we found at the plot were in a poor state of physical health and the conditions they were living in were cramped and filthy.
"We believe that some of the victims had been living and working there in a state of virtual slavery, some for just a few day/weeks and others for many years.
"The offences being investigated are extremely serious."
About 65 officers, including a police helicopter, armed units and dog handlers were involved in the raid.
Related Internet Links
The BBC is not responsible for the content of external sites.