M1 Bedfordshire crash victims identified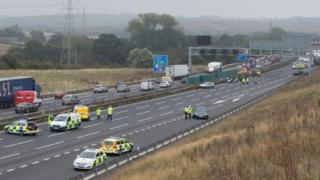 Two women who died after a multi-vehicle crash on the M1 motorway in Bedfordshire have been named.
Six cars and a motorbike collided in foggy conditions on the northbound carriageway early on Monday.
Aneta Bula, 36, of Ridgeway Road in Luton, died at the scene. Joan Kavanagh, 89, of Ashbourne Road, Derby died from her injuries on Tuesday.
Police are looking for the drivers of a red car and a white van that were involved in the crash.
A car driver, 53, and two passengers aged 89 and 90 were also seriously injured in the accident, which happened between junction 11 for Luton and junction 12 for Flitwick at 05:40 BST.
'Avoiding motorcycle'
PC Andy Ralph, of the roads policing unit, said: "It appears that one vehicle moved suddenly in front of the motorcycle which caused the rider to lose control and fall from her machine.
"Other vehicles following behind attempted to avoid the rider and her motorbike causing several collisions between themselves."
It was still dark at the time of the accident and conditions on the motorway were foggy, he said.
The driver of the red car, being sought by police, is thought to have been travelling from Hertfordshire to Northampton.
PC Ralph said that driver, and the driver of a white van, may be able to help investigators "piece together exactly what happened".