Patricia Goodband murder: Police 'find nothing' in weapon search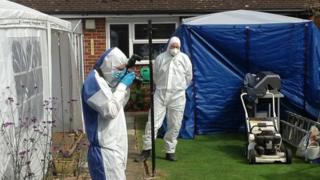 Police investigating the murder of a businesswoman have failed to find a weapon during a search of a garden.
Patricia Goodband, 76, died at her home near Aylesbury in December 2012.
Thames Valley Police were examining the garden of a house in Kings Close, Westcott, near Aylesbury, after receiving new information.
Christopher Symons, 63, of Cambridge Street, Aylesbury, was given a life sentence for her murder in October.
Officers were looking for the murder weapon and other personal items connected to Ms Goodband, including her 2012 diary.
A police spokesman said the four-day search had now finished.
"Nothing has been found and all resources have been stood down," he said
"No arrests have been made."
Ms Goodbands's body was found concealed in a well in the grounds of her home near Aylesbury in January 2013.
Symons, who denied the murder, was found guilty at Reading Crown Court and told he would serve at least 27 years in prison.
His lover Jennifer Creasey, 73, of Hale Road, Benson, Oxfordshire, was sentenced to six months for assisting an offender.
Symons' 59-year-old friend Robert Taft, of Kings Close, Westcott, Aylesbury, was given 10 months for perverting the course of justice and a 14-day concurrent sentence for possession of ammunition.
The businesswoman, who had known Symons for 30 years, went missing on 17 December 2012.
Her body was found about a month later. A post-mortem examination found she died from head injuries.