Nirah aquarium planning permission runs out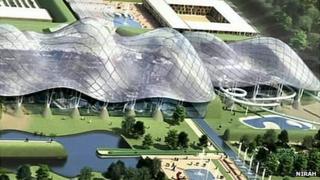 Planning permission for a £600m aquarium in Bedfordshire has expired with millions of pounds of public money invested in it.
The National Institute for Research into Aquatic Habitats (Nirah) was given the go-ahead to build the aquarium in Stewartby in 2007.
Bedford Borough and Central Beds councils are owed at least £1.6m, with the government owed more than £3.5m.
A spokesman for Nirah declined to comment.
The aquarium, which was originally expected to cost £375m, was mooted as a scientific research centre and visitor attraction four times the size of the Eden Project in Cornwall.
It was supposed to have been built by 2012, but a lack of investment and delays led to nothing being built on the former brickworks.
Failed project
The government originally loaned £2m to the aquarium, with the former Bedfordshire County Council loaning £1.6m.
In a Freedom of Information request, it emerged that interest on the government loan makes it worth more than £3.5m.
It is not known how much interest has accumulated on the council loan, which is now owed to both Bedford Borough and Central Beds councils.
It was thought the land would go back into both councils' hands if the project failed, but that is now being disputed and the taxpayer may have to buy the land back off Nirah. Its value is not yet known.
Mid Bedfordshire MP Nadine Dorries has called for an "explanation" on the matter.
The Department for Business, Innovation and Skills, speaking on behalf of the government and the councils, said: "Bedfordshire Consortium Ltd is in active discussions with Nirah about repayment of the loan and the security held over the site.
"Its goal is to ensure the best potential outcome for local people and to achieve this as soon as possible."