Tempsford air collision near A1 leaves pilot dead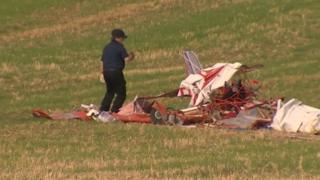 A pilot died when two single-seater light aircraft collided in mid-air over Bedfordshire, causing one to crash to the ground.
It happened at Tempsford near the Black Cat roundabout on the A1 at about 08:30 BST, police said.
The pilot of the crashed microlight was pronounced dead at the scene, in a field at Rectory farm.
The other aircraft was able to carry on flying and landed safely at Thurleigh airfield.
Emergency services are at the scene and the Air Accidents Investigation Branch has been notified.
Barford Road is currently closed to traffic.