Luton and Dunstable busway predictions 'embellished'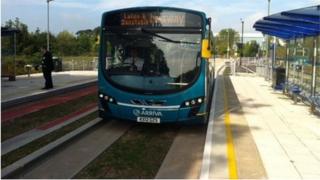 A council "embellished" figures predicting how many people would use a new busway, a senior councillor said.
Dave Taylor, Luton Borough Council's portfolio holder for environment, said passenger numbers were "pumped up" when trying to justify demand for the Luton and Dunstable busway.
It was claimed that 3.4m passengers would use the busway annually, but only 1.3m used it in its first year.
Luton Borough Council said the figures had not been "manipulated".
The £91m busway opened in September 2013 and was jointly funded by the Labour-run council, the government and Central Bedfordshire Council.
Mr Taylor, who now has responsibility for the busway, said of the 2008 forecast: "When you make the business case to the government you are not going to understate the case.
"You don't have a crystal ball - you embellish, pump up the figures."
'Waste of money'
But despite the actual number of passengers falling short of the forecast, Mr Taylor said the busway had been a success.
"The first anniversary is coming up on Thursday and passenger numbers will be 1.3m in the first year, that's a big number in anyone's money."
A spokesman for Luton Borough Council said the figures in the original business case were "an accurate projection of what was thought most likely to happen, ratified by the Department for Transport's own economists, and not embellished or manipulated in any way".
He said that when the business case was submitted in 2008, the recession had not started and "reasonable assumptions" were made by economists about the future of the economy.
"The government's guidance on the business cases may be confusing in that it requires us to assess a 'most likely' case, together with optimistic and pessimistic scenarios," he said.
Conservative councillor Mike Garrett said building the busway was a waste that cost residents £11m and the government £80m.
He said although the busway got people between Luton and Dunstable quickly, it did not solve the problem of congestion.
"People tried the busway in the first weeks but soon got back in their cars because of the wait for buses, so there are still hold-ups," he said.