Jailed PC Martin McElvenna's conduct 'unacceptable'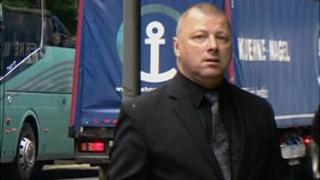 A police officer jailed for using police records to help drug smugglers, behaved in a "completely unacceptable" way, Thames Valley Police say.
Martin McElvenna, 54, worked in Milton Keynes when he accessed the Police National Computer (PNC) for information to help smugglers.
He was jailed for 18 months for misconduct in a public office following a trial at Southwark Crown Court.
A police spokeswoman said he had "abused his position".
Deputy Chief Constable Francis Habgood said: "It is imperative that the public has complete trust in the police and so we hope this investigation shows that we will always investigate any accusations of wrongdoing and will always take seriously the behaviour of our officers, whether they are on or off duty."
Misconduct hearing
"[His] abuse of position was completely unacceptable and so we fully accept the decision of the judge."
McElvenna of Wills Walk, Northampton, was dismissed from the force in November 2013 following a misconduct hearing.
He was jailed on Friday after being convicted of misconduct in public office following a nine-week trial.
The court heard he made a number of inquiries of the national computer between January 2012 and July 2013 for the benefit of a drugs smuggling conspiracy.
The gang allegedly conspired to bring drugs from North Africa via Spain and France across the English Channel.
One plan involved importing drugs worth in excess of £2m and involving a profit of more than £800,000, the court was told.
McElvenna was cleared on two other counts of misconduct while the jury failed to reach a decision on a fourth charge.