Leon Briggs' family criticise Bedfordshire Police documentary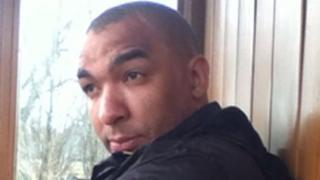 The family of a man who died after being taken into custody have described a behind-the-scenes documentary about Bedfordshire Police as "inappropriate".
Leon Briggs, 39, from Luton, died in hospital last November after being held over concerns about his behaviour.
Channel 4's 24 Hours in Police Custody programme filmed officers in their daily work "months afterwards".
The chief constable said she wanted to be "sensitive" but it was "right to show the public what we do".
Mr Briggs was detained under the Mental Health Act on 4 November and became ill at Luton police station.
An Independent Police Complaints Commission (IPCC) investigation is taking place and seven members of Bedfordshire police staff, including five police officers, have been suspended.
'Human side'
Channel 4 said its decision to film at Luton police station was "entirely unconnected" to Mr Briggs' case, with negotiations beginning five months before his death. Filming started "months" after he died, it added.
A spokesman said: "Luton Police Station was chosen due to the wide range of situations being dealt with at a local level."
But speaking on behalf of Mr Briggs family, Michael Doherty of Justice for Leon, said the filming was "inappropriate".
He said the community cohesion group in Luton had written to Chief Constable Collette Paul to ask that filming was stopped because of "very public concerns about police and accountability".
Ms Paul said she discussed everything with the IPCC and negotiated a "legal agreement" with the production company so no aspects of the case would be shown.
"I was very keen to be as sensitive as I can but I also believed it was absolutely right to show the public what we do in Luton," she said.
"I have to look beyond this [IPCC] investigation. There are a lot of policing issues that take place that I want the public to see and make up their own mind. It will show the human side of policing."