HMP Springhill 'struggles with tougher rules'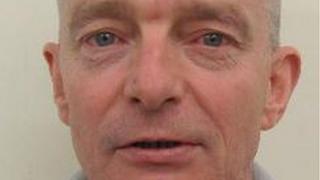 A prison that granted day release to a convicted murderer who killed again is struggling with a tougher assessment regime, inspectors have warned.
In July 2013, Ian McLoughlin, 21 years into a 25-year sentence, was released from HMP Springhill in Buckinghamshire on temporary licence.
He went on to murder 66-year-old Graham Buck at his home in Hertfordshire.
Inspectors found Springhill was well led but did not have resources needed to sustain the new changes.
The prison, near Aylesbury, holds about 330 inmates and prepares them for release.
Chief Inspector of Prisons Nick Hardwick said Springhill was found to be still dealing with the legacy of the McLoughlin case.
Resources promised
He said: "The prison was, however, well led and, while clearly under pressure, staff were responding positively to the challenges they faced.
"Key staff were working hard to ensure more robust assessments of prisoners were in place.
"The safe resettlement of offenders at the conclusion of their sentences matters, and this work needs to be resourced sufficiently."
Michael Spurr, chief executive of the National Offender Management Service, said: "Temporary release is an essential tool to support effective rehabilitation for prisoners - but public safety is our top priority.
"We will ensure that Springhill and all open prison establishments have the resources to undertake the more rigorous assessment process we now require."
Juliet Lyon, director of the Prison Reform Trust, said: "If they are to be more than just warehouses, prisons should be reserved for serious and violent offenders and properly resourced to help people to lead a
law abiding life on release."