Bedford care home: Daughter's 'utter shock' at father's treatment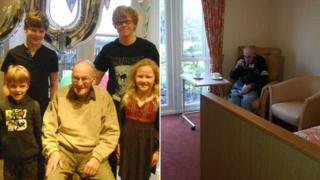 A care home failed to give an 84-year-old man his medication for two months before he died, a report found.
James Stewart moved into the £800-a-week Manton Heights Care Centre in Bedford in February.
His family discovered on 12 April he had not been given his prescription drugs for Parkinson's disease. He died on 21 April.
Kirsty Bourne, his daughter, said she was in "utter shock". A council report concluded he was the victim of neglect.
A pre-inquest hearing today in Ampthill has confirmed a full inquest will take place on 3 November.
'Aware of concerns'
A Care Quality Commission (CQC) inspection in April found "chaotic processes" at the home and said action was needed from owners Ranc Care.
The CQC and Bedford Borough Council ordered the nursing ward's closure in June.
Ms Bourne said her family made the discovery when Mr Stewart's health deteriorated.
"I was in complete and utter shock and went to the care home to get his file and it was obvious what had happened," she said.
"The most basic thing of giving him his correct medication had fallen off the edge."
Bedford Borough Council, which uses Manton Heights, said it was "aware of concerns" and 12 people were transferred to other providers in June, while residents who did not need nursing care remained at the home.
A council Adult Protection Investigation Report into Mr Stewart's care concluded: "It has been established that neglect had occurred and as a result [a] safeguarding alert has been substantiated."
A council spokesperson said: "Both the council and CQC will hold discussions with Manton Heights in order to ensure the necessary improvements. We have already offered support from our quality standards review team."
Ranc Care, which is based in Ilford in north east London, was not available for comment.