Luton vicar James Ogley asked children to commit sex offences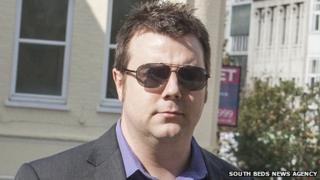 A vicar who admitted asking children to sexually assault other youngsters on an internet chat blog has been jailed for two years.
Reverend James Ogley, 38, vicar at Saint Francis Church in Carteret Road, Luton, earlier pleaded guilty to seven charges of publishing obscene material.
Six offences relate to material posted online in June 2012 and one to publication in November 2012.
The Diocese of St Albans said his future had not yet been decided.
'Sexual abuse'
Police visited the Hollybush Road vicarage in January last year after reports someone had tried to contact children via the chat room Internet Relay Chat, Luton Crown Court heard.
Chat logs showed the married father of two had asked those who appeared to be under the age of 16 to "commit child sex offences".
Prosecutor Daniel Siong said: "The material included graphic descriptions of sexual abuse of children... these included incestuous, sadistic, paedophiliac sexual acts on young and very young children - four years old in one instance."
In some exchanges he asked a 13-year-old girl to remove her clothes and sexually abuse her younger sister. Another interaction recorded him describing sex acts with an eight-year-old boy.
Ogley told police he had been "role playing" and never arranged to meet anyone.
Defence barrister Andrew Morton said Ogley was not so much a predator, but an "unhealthy fantasist" who had become "chastened and contrite" since his arrest.
"He makes no excuses and realises the folly of his conduct," said Mr Morton.
'Let people down'
Judge David Farrell QC said Ogley's actions had been "totally incompatible with the beliefs and teachings of a vicar".
"You have let down all those who looked up to you as the holder of a respected office," he said.
The vicar was suspended from all his duties as a clergyman in January 2013 and remains so, a spokesman for the Diocese of St Albans said.
The Bishop of St Albans, the Right Reverend Dr Alan Smith, said he may now impose "an appropriate penalty".
The Right Reverend Richard Atkinson, Bishop of Bedford, said Ogley's behaviour "fell far short" of Church of England standards.
Ogley pleaded not guilty to two further charges of publishing material in April 2012, but those charges will not be pursued and he will not stand trial.