St Francis Boys' Home sex abuse inquiry: Man tells of 'rape'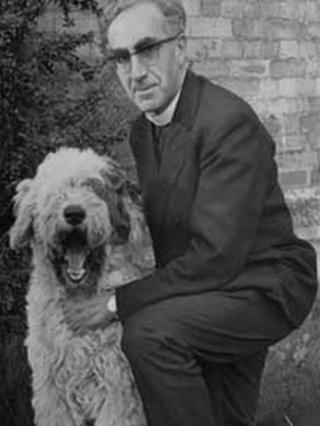 A 72-year-old man has described being raped in a boys' home 65 years ago by a priest who told him if he did not obey him he would "not go to heaven".
Eddie Murphy is the third man to tell the BBC about abuse carried out by Fr Wilfred Johnson at the St Francis Boys' Home in Shefford, Bedfordshire.
He attended the home, which closed in 1974, in the late 1940s to early 1950s.
Fr Johnson, who ran the home from 1945 to 1954, died in 1994. Police are investigating abuse allegations.
Mr Murphy has waived his right to automatic anonymity in order to speak out about the alleged abuse.
"It was a terrible experience. I was molested again and again by Fr Johnson," he said.
"Johnson would tie me to the bed in the bedroom. He raped me a couple of times. I was so terrified. I could not tell my family.
"At one time I told a local bobby. He was not interested. He thought I was a child telling lies.
Shefford inquiry
Abuse at St Francis Boys' Home
80
potential victims identifed by police
35 statements taken in global inquiry

3 men have told the BBC about abuse carried out by Fr Wilfred Johnson
"The priest used to tell me that if I did not do things I would not go to heaven."
He said the experience had scarred him for life.
Mr Murphy said he was in contact with Bedfordshire Police, which has started a new review of allegations from 80 potential victims.
In February this year, Tom Browne, 70, originally from Cambridge, said he was abused by Fr Johnson at the St Francis Boys Home in Shefford, Bedfordshire, in about 1950.
Mr Browne, who also waived his right to anonymity, said he was still haunted by the "nightmare" of the abuse inflicted on him.
In July 2013 another man, who asked to remain anonymous, also alleged abuse at the hands of Fr Johnson.
The orphanage was run by the Catholic Diocese of Northampton.
Allegations have also been made against Fr John Ryan, who ran the homes in the 1960s and died in 2004.
Police investigating the complaints said the suspects included a priest and four nuns, who have since died.
The Diocese of Northampton has said it "deeply regrets" any hurt caused but stressed the "claims are not proven".