Watford General Hospital misses breast cancer targets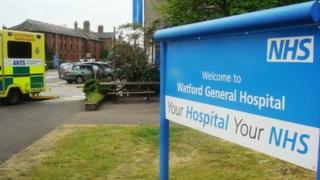 A hospital in Hertfordshire has failed to meet breast cancer referral targets for seven consecutive months.
In July, 11% of patients had a first consultation with a specialist at Watford General Hospital within 14 days of being referred from their GP.
The National Institute for Health and Care Excellence (NICE) target is 93%.
The hospital said delays were due to bigger than expected demand but extra clinics had been put on and more staff were working to remedy the failure.
The hospital met its targets up to December last year but in January began to fall behind.
The West Hertfordshire Hospitals NHS Trust, which runs Watford General, estimates 130 people waited longer than two weeks to see a breast cancer specialist.
The longest wait was between three and four weeks.
Hospital chief executive Samantha Jones said in a statement: "I apologise to anyone who has had to wait longer than they should.
"We have put in place measures to meet demand and expect performance to improve significantly."
Treatment target
The trust claims it can now offer all patients with suspected breast cancer "the choice of an appointment within 14 days", with an additional 12 clinics a month.
"We expect our August performance to rise to approximately 40%, and to 70% in September," Ms Jones said.
She added treatment still began within the target 31 days of diagnosis.
Emma Pennery, clinical director of charity Breast Cancer Care, said delays in seeing specialists increased women's anxiety but often did not affect treatment outcomes.
She said 90% of women seeing a specialist would find they did not have breast cancer.