Connors family ordered to pay £360,000 for keeping slaves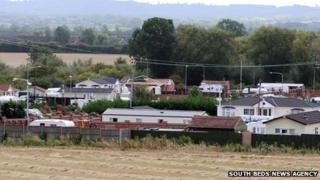 Members of a traveller family jailed for keeping vulnerable men as slaves must pay out more than £360,000, a court has ordered.
Josie Connors, 33, and her husband James, were convicted of servitude in 2012, relating to offences at the Green Acres site near Leighton Buzzard.
Patrick Connors, 22, was jailed for five years in 2013 for servitude, compulsory labour and assault.
The order was made at a Proceeds of Crime Act hearing at Luton Crown Court.
The three were convicted after Bedfordshire Police raided the travellers' site in September 2011, to free 13 men being held against their will by members of the Connors' family.
Tommy Connors Senior, 54, was jailed for eight years in 2013 after being convicted of keeping two vulnerable men captive and forcing them to work for no wages.
James and Josie Connors had previously been convicted of two counts each of keeping people in servitude and jailed for 11 years and four years respectively.
Judge Michael Kay ordered Patrick Connors hand over £160,771, while James Connors must pay £191,242 to the authorities within six months or both will receive a further 30-month prison sentence.
Josie Connors must pay £9,099 or face a six-month prison term.
During the trials, the court heard the family targeted men who were "homeless or addicted and isolated" and who could be exploited.
The men were put to work doing block paving work and laying tarmac and gravel, but were not paid.
The Connors threatened them with violence and intimidation if they wanted to leave.